Let me take over your life for 10 weeks…..
and you'll feel…..
* Less Exhausted & overwhelmed
* On top of things both physically & mentally
* Less jiggly everywhere!
* Excited & motivated to exercise
* Energised by a super simple healthy meal plan
* And finally reaching your dream body goals!
10 Weeks for $150!!!
Learn how and what to eat, turn your 'problem' areas into 'proud' areas, and gain the tools you need to continue to look and feel amazing for life!
Simply changing the relationship you have with food and your body will change your life almost instantly. This program contains online access to Meal Plans and Recipes, Workouts, Videos and Easy to Follow tools and tips to help organise your mindset, daily exercise and meal prep routine, establish self motivation and continue for a lifetime not just 10 weeks. Each week has a different focus to ensure you don't get overwhelmed. I will also be in weekly contact online to ensure you are staying on track and answer any questions or help with motivation. I am not about holding your hand – I'm about empowering you to have the tools to change your life and hopefully pass the knowledge on to your children.
Our Private Challenge Facebook Group members will also be there to help motivate you along your journey together. So many of our past members have developed amazing new support groups and friends along the way! It's a great place to get much needed parenting support too!
Motherhood is full of so many challenges, some things you can change and others you can't – lets change the things you can and make you a RADIANT and BEAUTIFUL role model for your children – your journey starts July 19th – Book in NOW!
STARTS JULY 19th!! Reserve Your Spot Now!
INCLUDES:
* Training Singlet ($50 value)
* Goal Setting & Nutritional with Exercise Physiologist ($80 value)
* Measurements/Photos & Fitness Testing ($20 extra for in-home)
* 10 Weekly Home or Outdoor Workout Plans ($100 value)
* 5 Week Meal Planner (over 100 easy recipes $90)
* 10 Weekly Behaviour Change Tasks ($40 value)
* 24/7 Online Team Support
* Mt Warning climb Finale to celebrate success (optional)
* Prizes!! (must book in for Personalised Measures & Testing to be eligible)
OPTIONAL: If you find it difficult to workout at home on your own….
JOIN OUR MUMMYLICIOUS OUTDOOR EXERCISE SESSIONS HERE
Can't pay up front? We have a weekly payment plan! See below….
JOIN NOW! Here's How….
1. Complete our online Registration Form (new clients only)
2. Submit Payment (options below):
Full Payment:

PayPal:
2. Ezi Debit – Weekly payments for 10 weeks (no cancellations and includes 5% fee)
Challenge + Unlimited Mummylicious – $52.50/week
Challenge + 2 Mummylicious – $36.75/week
Standard Package (home workouts) – $15.75/week
Standard Without Testing/Photos/Prizes – $8.40/week
And if you need more motivation – PRIZES!!!
Previous rounds we gave away a $90 Stillness in the City treatment voucher, $100 Endota Spa treatment, $50 Harbour Town vouchers, Deli Cafe treats, Rockwear activewear, Lorna Jane goodies and more! Join in this round to discover a new Love for Your Body – it's a WIN WIN!
Still not convinced? Read what other mums say…..
Love Your Body Success Stories:
Mummylicious Fitness is all about educating and motivating mums to prioritise their health and happiness through better nutrition, regular exercise and a healthy life balance. We don't believe in food restrictions, crazy diets or enhancing supplements – just regular family friendly nutrition and easy to do workouts at home or with us here at Mummylicious. Learn more from these mums who have tried our program:
Loretta – lost 10.5kg and 38cm.
"Oh where do I even start with this challenge? It was the best thing I could have done for myself! The meal plan is seriously amazing, simple and delicious. It's not restrictive at all so it doesn't feel like you are on a 'diet'. I lost over 10 kilos in 10 weeks and it was honestly easy with Christine's programme. I feel confident, energized and so happy! I found a way to get my pre baby body back without starving myself, exercising is now so enjoyable and have made some incredible friends!
Thank you so so much Christine, you have changed my life!."
Casey – lost 11kg and 68cm.
"I cannot believe how far i have come in 10 weeks. Getting into the habbit of a healthy lifetyle was possible with the love your body challenge, not only does this programme give you support and guidance, But a whole new outlook onto the meaning of self love."
Ro – lost 11kg and 48cm.
"After watching my friends do the previous challenge and seeing how much they changed physically and mentally I thought why not I'll give it a go!! With two girls – 3 1/2 and a 7 month old, I knew something needed to change as I was heading down a dangerous road!!! My goals were simple – change my eating habits (no more blocks of chocolate for dessert) increase my exercise and hopefully start running again and maybe just maybe loose some weight!!!
For the first week I struggled as the craving to eat and eat was still there! What saved me was following Christine's meal plans which included receipts which were so easy to follow.
I also attended Mummylicious and did the running program. So after I got over the the first week I suddenly found my enjoyment for exercise had returned, I actually got excited to train!!
The biggest change I found though was my whole attitude to food!!!! Instead of feeling like eating all the time, and choosing foods which would make me feel worse, I started to make better decisions and eat foods that gave me energy to function better. This journey for me is a long one not a quick fix so I know I have a way to go. But I would highly recommend this to everyone…. it's a change in lifestyle and I can see my family enjoying the change. Thank you to Christine and my other mummylicious friends you girls have helped me so much I couldn't have done it without you."
Camille – lost 3.7kg and 11cm.
"Hi Christine, just want to say a huge thank you for the last 10 weeks, I am really happy that I have achieved what I wanted to achieve and feel a whole lot more comfortable in my clothes. I'm actually quite amazed at myself that I lasted the whole 10 weeks!!…but now I definitely don't want to give up especially the exercise. Your guidance, workouts and tips/videos have been awesome. I can not thank you enough! Holly
Holly – lost 23.5kg
"9 months ago I had a beautiful baby boy weighing 3.55kg. After I gave birth to him I weighed 116kg. The heaviest I had ever been. … I was unhappy with how I felt physically and mentally, in a bad place. In March I met a mum who mentioned a fitness class called Mummylicious. Being the shy anxious me at the time, I was nervous to try it. But I did and became addicted. 
I weighed myself in April at 113kg. Since then I have been going to Mummylicious every Monday and Friday as well as doing the Love Your Body 10 Week Challenge and have lost 23.5 kg since April. I'm now 23.5 kg closer to my ultimate goal weight. 
I had to learn to love and embrace myself in order to get where I want to be. I have 20.9kg to go and I believe I can do it."
Jasmin
"So stoked to have just run straight for 20 minutes!!! (beginners run for this week). Yay! Might not seem much but for me this is such a great achievement! When I started the runs I literally could not run for the first 60 seconds without stopping to walk. Feel like I have come so far. Doing a little happy dance!"
Katie
"10 weeks ago I decided to commit to the Love Your Body 10 Week Challenge with Mummylicious Fitness. I got my body back, I feel amazing and this program is something that integrates into everyday life!! Thanks so much for the guidance and support Christine!"
Carly
"Today I achieved a goal I have been working towards for 3 years. I never in my wildest dreams thought that after having three children and being in my mid 30's that I would want to, or be able to run 10km in an hour. I'm so proud and to be honest had a quiet moment of happy tears. I reflected on the fact that I can achieve anything that I set out to do – the body achieves what the mind believes!"
Jaime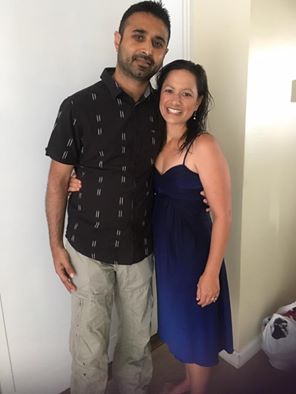 Amy" I wasn't able to have my measurements taken by Christine due to distance & being away at the end but here's my little brag- for a function I wore a dress I had bought (but never worn) before kids 4 years ago- size 8!!!!!!! Stoked to be able to achieve that."